Ms. Sara Shackett, Social Studies Teacher of the Year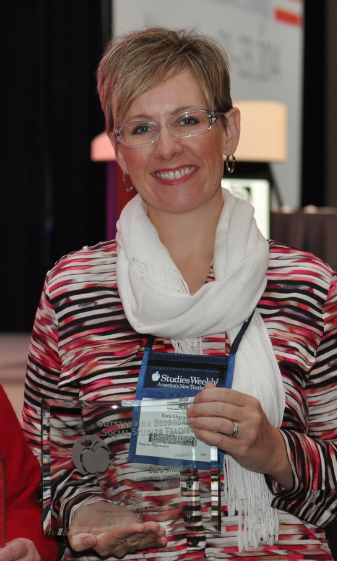 In the process of seeking user feedback for our Country Rankings features, we learned that Ms. Sara Shackett, the superstar teacher from Lakewood, Colorado, was the recipient of this year's NCSS Social Studies Teacher of the Year Award.
The picture to the right shows Sara receiving the award at the 95th Annual Conference in Boston, MA.
We must admit that this does not surprise us. When Sara uses Civic Mirror, the whole CM Community notices… The heights she takes her 9th Grade students to in the online discussion forums is impressive to say the least, and we have already acknowledged Sara on this blog for the incredible CM video reflections her students produce.
Example of Excellence
To give you an idea of the quality we are talking about, just read 2 of the 46 responses students made to Ms. Shackett's online discussion question:
Ms. Shackett: "Write a GOOD in initial post about how you think today's legislative event went. Also, respond meaningfully to at least 2 other posts. Feel free to incorporate course content here
"
Student 1: "The fact that people make foolish decisions in large groups has been well documented in scientific studies–no one wants to be the one who drags out the process for everyone else by challenging the unofficial leader everyone automatically thinks of. People in groups, and especially minorities, often just 'go with the flow.' In a smaller group of people, communication is vastly easier and people are more likely to express their own opinions, when placed in a more personal context. Our representatives might have been able to clearly and efficiently explain/formulate their ideas for the formation of these bills if they had only talked amongst themselves, perhaps with an audience of citizens who had the option to submit written complaints. Silent representatives would have been encouraged to speak in a smaller group of people."
Student 2: "I think that the legislative event went fairly well. I do think that too much time was spent on the second bill and that not enough time was speant on the most important one, the budget bill. However, I did vote yes on the budget bill because I was trying to compromise. I felt like the bill had some of the values that crumbpublicans hold to be true as well as some of the values that rhineapples value. I did say that I would compromise in my 'why you should vote for me' speech. I might have been slightly mistaken in my evaluation, and thought that the compromise was good when it wasn't. During the second bill, I agree that it was silly to spend so much valuable time on a bill that one of the writers knew he wouldn't vote for. I however, do like how everyone's thoughts were taken into account in order to compromise, which, if you will recall, is what democracy is."
Mutual Thanks!
Congratulations Sara! You have been a shining example for everyone in the CM Community. And, if we may share your response to our congratulatory message, we also want to thank you for acknowledging us in the process.
"Civic Mirror really is a huge reason why I stood out for the award."

Sara Shackett, 2014.