We are proud to announce that Civic Mirror Country Rankings have arrived, providing students and educators with in-game metrics that can be used for inter-class competitions, as well as data for deeper analysis and comparative studies. Let's first explain how they work.
The National Scorecard
As the screenshot on the right shows, when an educator ends a simulated year, we now capture that country's performance against key metrics, in a fashion similar to (but quite different from) what the Untied Nations does with the Human Development Index.
Civic Mirror has always provided students with in-game metrics that tell students how well they are doing as "individual citizens". For example, students score points for keeping family members alive, fulfilling Hidden Agenda objectives,  participating in business deals, elections, and trials. Up until this point, the program's emphasis has been on "How are you doing and what can change about yourself to improve your situation in this simulated country?"
Now CM provides data that tells students how they are doing as a group!
As the screenshot to the right shows, students will now receive feedback on the health and state of their nation. Inspired by our National Standards of Living module, which challenges students to use the UN Human Development Index to determine what country in the world their simulated nation is most similar to, this information will be displayed in-game.
In other words, CM now provides concrete information that educators can use to ask tough group questions… Tough questions that we often forget to ask ourselves in this age of increasing individualism:
"How are WE doing ? How are our individual actions and decisions collectively affecting this community we are a part of?  How do WE need to work together better?
Inter-Country Competitions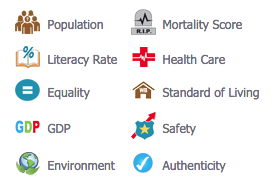 Country Scorecards and Rankings will also allow educators to facilitate inter-country competitions. For example, if 3 or 4 teachers in a school (or district, or state) all run Civic Mirror at the same time, they could use the Country Scorecard results as the basis for a class tournament: "What country will finish with the highest /10 score?"
Then, when Johnny consumes 3 Food units for his family, resulting in family deaths for two other students, the issue extends far beyond these three students (who may have settled the dispute in court) when their country's Mortality Rate score plummets. Now – because Johnny's country is in a inter-class tournament – he will be feeling all sorts of pressure from everyone in the country!
Placement Within CivicMirror.com
Country Scorecard information can be found in the following two places:
The existing "National Info" page shows the current (real-time) scorecard stats
A new page titled "Year-End Stats" shows how a country scored at the end of each simulated year year. You can find this page in the "Reports" section.
The Country Rankings and Tournaments space can be found within CM World, in the "Countries" section. To learn more about each scorecard category and how we calculate their /10 score, log into civicmirror.com and go to the Country Rankings Legend page.
If you don't have a CM Account, quickly Register for a Free Trial.