10th Grade Students Earn Highest Ranking of 7.5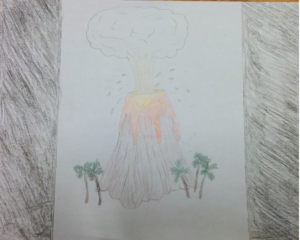 When we released CM Country Rankings last winter, a whole new dynamic was added to Civic Mirror: students could see how good or bad the results of their collective efforts were. Just like the U.N. Human Development Index does for countries in the real world, a social studies class playing Civic Mirror can see how well their country is doing compared to other classes across the world. And while classes of students can always create their own mini-competitions with CM Tournaments, the CM Team likes to keep tabs on what countries are doing the best (and worst) overall.
We are happy to announce that Blackrock, a 10th Grade Civics class from Oakville Trafalgar High School in Oakville, Ontario earned the highest ranking in CM World in 2014/15 with a 7.5/10!!!
Criteria for Consideration
In order for countries to be considered eligible for the Country of the Year Competition, they must have met the following two criteria:
Completed at least 1 simulated year
Their instructor cannot have modified the simulated scenario enough to lower its "Authenticity Score" below an 8/10 (see inside civicmirror.com for details).
How Did Blackrock Do It?
Led by their stellar teacher, Mr. Michael Fraser, Blackrock's score of 7.5 country was hard earned. In a 10-week course, he was able to navigate his students through 3 simulated years, giving them enough time to develop their economy to the point that they did well on several metrics… Notably the Mortality Rate in which they scored 10/10 for there not being a single CM Family death in their final year.
Let's take a look at their breakdown: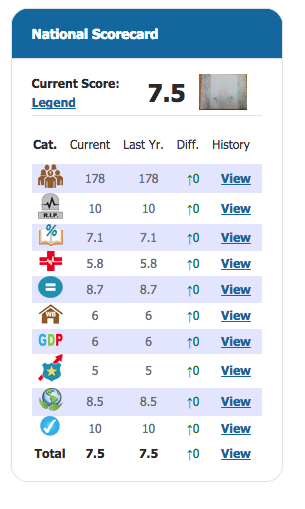 Blackrock's population was 178, which means that the class size was relatively small at around 22-24 students. This helps scores on some metrics (e.g. equality), and makes scoring well on others more difficult (e.g. GDP).
As mentioned, you can see their mortality score is 10/10 which hugely helped their overall score.
Their Literacy rate was 7.1% and their Health Care Access rate was 5.8. These are indicative of a developing country on the verge of becoming developed.
Their equality score is quite good at 8.7/10, which measures the standard deviations of housing standards, material wealth, and overall well-being.
Their Well-Being and GDP scores were 6/10, also indicative of a developing economy on its way up, but its Security score (which measures citizen access to police and protection services) was only 5/10.
Lastly, it's Environment score was 8.5/10, which indicates that they did develop some of their Wilderness hexes in order to develop the economy, but not at a reckless rate. The blue checkmark shows that their simulated scenario was left "Authentic" and 10/10 (some teachers like to change the scenario for a variety of purposes, but this can give their countries unfair playing advantages).
Highlights from Blackrock
This is Blackrock's national animal, a Liger. Maybe its magic skills helped the country out!?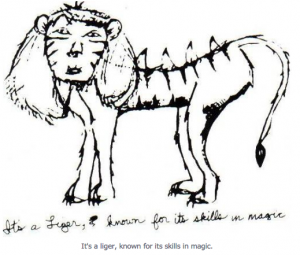 This was one of their more interesting discussion forum posts: