The Civic Mirror web-programming team isn't your typical run-of-the-mill group of coders… quite the opposite in fact. They are not only passionate about all things gaming and code, but today, in their own leisure time, they virtually attended the "Virtual Worlds: Best Practices in Education"  Conference to learn, get better, and meet other like-minded digital educators and developers.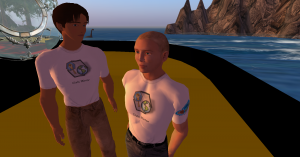 The current CM Programming Team consists of lead programmer Daniel Lindenberger, and Ben Weston and Derek Lam. They have tons of ideas in store to make Civic Mirror bigger and better, and today's event provided awesome amounts of steam to catapult things forward.
Pictured to the right are Ben Weston and Daniel Lindenberger, basking in the virtual sun in their spiffy CM t-shirts.  Awesome!