Written By: Kade Patterson
Simulated Country: Terra Aliena
School: Jacob Hespeler Secondary
Instructor: Dave Lambert
Location: Cambridge, ON
Terra Aliena, like any nation with a heavy government presence, has had it's troubles with fascists trying to take control, but after it's recent changes a new day is rising. After previous lapses in judgement and general dissatisfaction with MPs and the PM, the people of Terra Aliena were ready for a change, ready enough to take up arms, by the beginning of 2002 a revolution is brewing.
The revolution is fighting for the right for citizens to vote on all laws. This idea is quick to see action, as in 2003 a crisis vote is called, however it may have been rushed a little, as it is just barely prevented.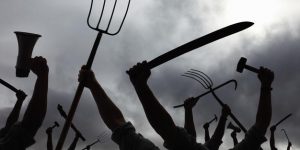 However the views and feelings of the rebellion are still alive and kicking, as later in 2005 citizen Kade Patterson proposes a law to MP Chance Tabor in private, this Law would allow citizens to vote on laws which involve a direct change in the political system, instead Chance decides to propose that citizens be allowed to vote on all laws.
With his superior speaking skills and debate experience, the government decides to finally let the people decide how to run their lives. And thus Terra Aliena transitions from an average representational democracy into direct democracy. Where will the future take us? All that can be said for certain is that, we are now as free as the wind and shall see where that blows us.